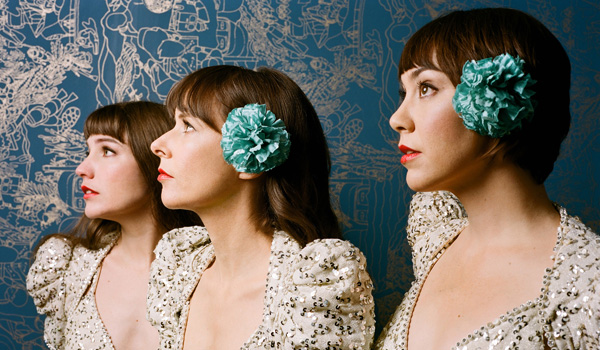 WHY DIDN'T ANYONE TELL ME ABOUT THIS?
Not to be denied, I 'm not updated on every great musician or artist that gets a record deal or has that undeniable charm that gets featured on Daytrotter like the common music blogger. But when I heard about
The Living Sisters
, I just flipped. I've been pretty vocal about my love for Becky Stark, but only recently did I know about this wonderful group. This sweet-voiced harmony trio is composed of Lavender Diamond frontwoman
Becky Stark
, LA-based songstresses
Eleni Mandell
and
Inara George
of
The Bird and the Bee
. The austere simplicity and refreshing harmonies of their voices are lovely. They might remind you of The Roches at first but
The Living Sisters
have their own special brand of delicate, indie-folk music. Their music is light and easy but not too easy listening for the everyman. Their voices are the best instrument they have and they know how to use it. I've always been for these type of combinations and from my point of view, it's something to look forward to all the time.
As Becky said in an interview, "We're The Living Sisters… and we love to live." Well ladies, the music world loves you too.
The Living Sisters
' debut album
Love to Live
garnered a lot of good reviews. Everything look bright for this group and their new original single
Double Knots
is no doubt the best of the album. The album opener,
How are You Doing
features the trio swirling and blending their voices for some glorious harmonies.
♫ The Living Sisters - Double Knots
♫ The Living Sisters - How Are You Doing
Previous work of each of the members:
♫ Eleni Mandell - It's Raining (Irma Thomas cover)
♫ Lavender Diamond - Like a Prayer (Madonna cover)
♫ The Bird and the Bee - How Deep Is Your Love (Bee Gees cover)
The trio gets funky with
Greyboy All-Stars
in their
Nancy Wilson
cover of
How Glad I Am
, originally posted December 2009 over
Rollo & Grady
.
♫ Greyboy All-Stars & The Living Sisters - How Glad I Am (Nancy Wilson cover)